Category Archives:
Health Insurance Rate Review
— BY KAREN Y.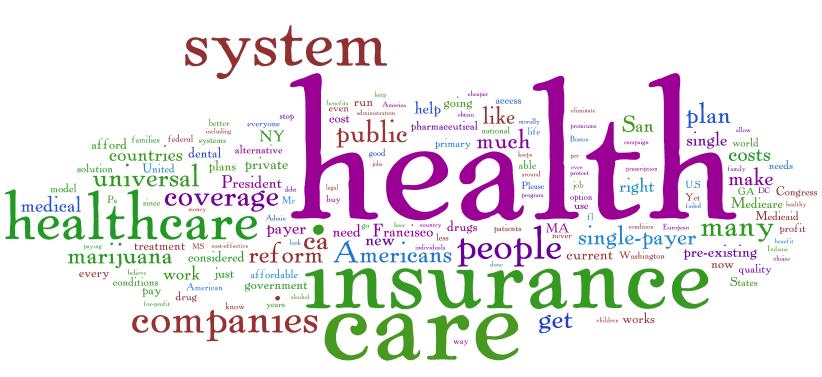 The Stew steps through the crap the Right-Wing spews about ObamaCare (The Affordable Care Act) and breaks down what this landmark legislation actually means for average Americans.
Patient Rights and Protections

Insurance Choices and Costs

65 and Older

Small Business Tax Credits
The Affordable Care Act puts consumers back in charge of their health care. Under the law, a new "Patient's Bill of Rights" gives the American people the stability and flexibility they need to make informed choices about their health.
Patient's Bill of Rights
Provides Coverage to Americans with Pre-existing Conditions: You may be eligible for health coverage under the Pre-Existing Condition Insurance Plan.
Protects Your Choice of Doctors: Choose the primary care doctor you want from your plan's network.
Keeps Young Adults Covered: If you are under 26, you may be eligible to be covered under your parent's health plan.
Ends Lifetime Limits on Coverage: Lifetime limits on most benefits are banned for all new health insurance plans. Before the health care law, many health plans set an annual limit — a dollar limit on their yearly spending for your covered benefits. Many plans also set a lifetime limit — a dollar limit on what they would spend for your covered benefits during the entire time you were enrolled in that plan. You were required to pay the cost of all care exceeding those limits.
Restricts Annual Dollar Limits on Coverage: Annual limits on your health benefits will be phased out by 2014.
Ends Pre-Existing Condition Exclusions for Children: Health plans can no longer limit or deny benefits to children under 19 due to a pre-existing condition.
Ends Arbitrary Withdrawals of Insurance Coverage: Insurers can no longer cancel your coverage just because you made an honest mistake.
Reviews Premium Increases: Insurance companies must now publicly justify any unreasonable rate hikes.
Helps You Get the Most from Your Premium Dollars: Your premium dollars must be spent primarily on health care – not administrative costs. Starting July 2012, The percentage of your premium dollars that an insurance company spends on providing you with health care and improving the quality of your care (as opposed to what it spends on administrative, overhead, and marketing costs) is known as "medical loss ratio."
The new law limits how much of your premium dollar your insurer can spend on things other than providing health care and improving its quality. If your insurance company spends less than 80% of your premium on health care, it must provide a rebate of the difference.
Removes Insurance Company Barriers to Emergency Services: You can seek emergency care at a hospital outside of your health plan's network.
Since the Patient's Bill of Rights was enacted, the Affordable Care Act has provided additional rights and protections.  The health care law:
Covers Preventive Care at No Cost to You: You may be eligible for recommended preventive health services. No co-payment.
Guarantees Your Right to Appeal: You now have the right to ask that your plan reconsider its denial of payment.
Flexible Spending Account Changes
An arrangement you set up through your employer to pay for many of your out-of-pocket medical expenses with tax-free dollars. These expenses include insurance copayments and deductibles, and qualified prescription drugs, insulin and medical devices. You decide how much of your pre-tax wages you want taken out of your paycheck and put into an FSA. You don't have to pay taxes on this money. Your employer's plan sets a limit on the amount you can put into an FSA each year.
There is no carry-over of FSA funds. This means that FSA funds you don't spend by the end of the plan year can't be used for expenses in the next year. An exception is if your employer's FSA plan permits you to use unused FSA funds for expenses incurred during a grace period of up to 2.5 months after the end of the FSA plan year.
As of January 1, 2011, the costs of over-the-counter medications will be reimbursed under a Flexible Spending Account (FSA), Health Savings Account (HSA), or Health Reimbursement Account (HRA) only if the medications are purchased with a doctor's prescription. These restrictions do not apply to the purchase of insulin.
Note: Flexible Spending Accounts are sometimes called Flexible Spending Arrangements. Health Reimbursement Accounts are sometimes called Health Reimbursement Arrangements.
Summary of Benefits and Coverage (SBC)
Starting September 23, 2012 or soon after, health insurance issuers and group health plans will be required to provide you with an easy-to-understand summary about a health plan's benefits and coverage. The new regulation is designed to help you better understand and evaluate your health insurance choices.
Consumer Assistance Programs
Many states offer help to consumers with health insurance problems. The Affordable Care Act improves these services with grants that help states start or strengthen Consumer Assistance Programs (CAPs). The states and territories that applied for these grants have received funds provide residents direct help with problems or questions about health coverage.
Whether or not your state has a Consumer Assistance Program, you have rights under the health care law, including the right to appeal decisions made by your health insurance provider.
If your state does not have a Consumer Assistance Program, some state and federal government offices may still be able to help you determine your rights and solve problems.
Appealing Health Plan Decisions
The Affordable Care Act ensures your right to appeal health insurance plan decisions – to ask that your plan reconsider its decision to deny payment for a service or treatment. New rules that apply to health plans created after March 23, 2010 spell out how your plan must handle your appeal (usually called an "internal appeal"). If your plan still denies payment after considering your appeal, the law permits you to have an independent review organization decide whether to uphold or overturn the plan's decision. This final check is often referred to as an "external review."
Covered Preventive Services
Note: Services marked with an asterisk ( * ) must be covered with no cost-sharing in plan years starting on or after August 1, 2012.
Under the Affordable Care Act, you and your family may be eligible for some important preventive services — which can help you avoid illness and improve your health — at no additional cost to you.
Screenings for adults: abdominal aortic aneurysm, alcohol misuse screening and counseling, Aspirin use for men and women of certain ages, Blood Pressure screening for all adults, cholesterol screening for adults of certain ages or at higher risk, colorectal cancer screening for adults over 50, depression screening for adults, Type 2 Diabetes screening for adults with high blood pressure, diet counseling for adults at higher risk for chronic disease, HIV screening for all adults at higher risk, immunization vaccines for adults (doses), Obesity screening and counseling for all adults, sexually transmitted infection (STI) prevention counseling for adults at higher risk, tobacco use screening for all adults and cessation interventions for tobacco users, syphilis screening for all adults at higher risk.
Covered Preventive Services for Women, Including Pregnant Women: Anemia screening on a routine basis for pregnant women, bacteriuria urinary tract or other infection screening for pregnant women, BRCA counseling about genetic testing for women at higher risk, breast cancer mammography screenings every 1 to 2 years for women over 40, breast cancer chemoprevention counseling for women at higher risk, breastfeeding comprehensive support and counseling from trained providers, as well as access to breastfeeding supplies, for pregnant and nursing women*, cervical cancer screening for sexually active women, chlamydia infection screening for younger women and other women at higher risk, Food and Drug Administration-approved contraceptive methods, sterilization procedures, and patient education and counseling, not including abortifacient drugs*, domestic and interpersonal violence screening and counseling for all women*, folic acid supplements for women who may become pregnant, gestational diabetes screening for women 24 to 28 weeks pregnant and those at high risk of developing gestational diabetes*, gonorrhea screening for all women at higher risk, Hepatitis B screening for pregnant women at their first prenatal visit, Human Immunodeficiency Virus (HIV) screening and counseling for sexually active women*, Human Papillomavirus (HPV) DNA Test: high risk HPV DNA testing every three years for women with normal cytology results who are 30 or older*, osteoporosis screening for women over age 60 depending on risk factors, Rh Incompatibility screening for all pregnant women and follow-up testing for women at higher risk, tobacco use screening and interventions for all women, and expanded counseling for pregnant tobacco users, sexually transmitted infections (STI) counseling for sexually active women*, syphilis screening for all pregnant women or other women at increased risk, well-woman visits to obtain recommended preventive services for women under 65*.
Covered Preventive Services for Children: Alcohol and Drug Use assessments for adolescents, autism screening for children at 18 and 24 months, behavioral assessments for children of all ages, blood Pressure screening for children, Cervical Dysplasia screening for sexually active females, Congenital Hypothyroidism screening for newborns, Depression screening for adolescents, developmental screening for children under age 3, and surveillance throughout childhood, dyslipidemia screening for children at higher risk of lipid disorders, Fluoride Chemoprevention supplements for children without fluoride in their water source, gonorrhea preventive medication for the eyes of all newborns, hearing screening for all newborns, Height, Weight and Body Mass Index measurements for children, hematocrit or hemoglobin screening for children, hemoglobinopathies or sickle cell screening for newborns, HIV screening for adolescents at higher risk, immunization vaccines for children from birth to age 18 (doses, recommended ages, and recommended populations vary), iron supplements for children ages 6 to 12 months at risk for anemia, lead screening for children at risk of exposure, medical history for all children throughout development, obesity screening and counseling, oral health risk assessment for young children, Phenylketonuria (PKU) screening for this genetic disorder in newborns, sexually transmitted infection (STI) prevention counseling and screening for adolescents at higher risk, tuberculin testing for children at higher risk of tuberculosis, vision screening for all children.
65 or Older
The Affordable Care Act strengthens Medicare, offers eligible seniors a range of preventive services with no cost-sharing, and provides discounts on drugs when in the coverage gap known as the "donut hole."
Medicare Preventive Services: Under the Affordable Care Act, if you have Original Medicare, you may qualify for a yearly wellness visit and many preventive services for free. Medicare provides preventive benefits to keep you healthy including a yearly wellness visit, tobacco use cessation counseling, and a range of no-cost screenings for cancer, diabetes, and other chronic diseases.
Medicare Drug Discounts: The Affordable Care Act includes benefits to make your Medicare prescription drug coverage (Part D) more affordable. It does this by gradually closing the gap in drug coverage known as the "Donut Hole."
Strengthening Medicare: Over $4 billion in Medicare fraud recovered in 2010. Under the Affordable Care Act, the life of the Medicare Trust Fund will be extended to at least 2024 as a result of reducing waste, fraud, and abuse, and slowing cost growth in Medicare. This will provide you with future cost savings on your premiums and co-insurance.
Small Business Employers
Tax credits and new programs are now available to small businesses. Learn how the law helps make care more affordable for employers, employees, and early retirees:
Small Employer Tax Credits: Tax credits for small businesses and non-profits help you bring down the cost of providing insurance. If you have fewer than 25 employees and provide health insurance, you may qualify for a tax credit of up to 35% (up to 25% for non-profits) to offset the cost of your insurance. This credit will increase in 2014 to 50% (35% for non-profits). This will make the cost of providing insurance much lower.
Early Retiree Reinsurance Program (ERRP): If your company provides health insurance to retirees ages 55 to 64, it may be eligible for financial help through the Early Retiree Reinsurance Program. The Early Retiree Reinsurance Program provides much-needed financial relief for employers so retirees can get quality, affordable insurance.
Compiled by VeracityStew.com
Also by this author:  What's in Dodd-Frank?
Published with permission.  Originally published on VeracityStew.com [http://veracitystew.com/2012/06/17/whats-covered-in-the-affordable-care-act/]